Etsy shop creation process is so fucked up. There is big problem with their shop creation and verification process and it has been like this for almost like 1 year or so or may be even beyond that. They can't fix it. It's totally broken. Here is what happens when you create a shop on Etsy from personal or business account.
During shop creation process when you reach personal details or business details verification it says can't verify account and you are stuck.
After few tries you ay be lucky that it goes beyond that and then it finally slaps following error
Your account is currently suspended.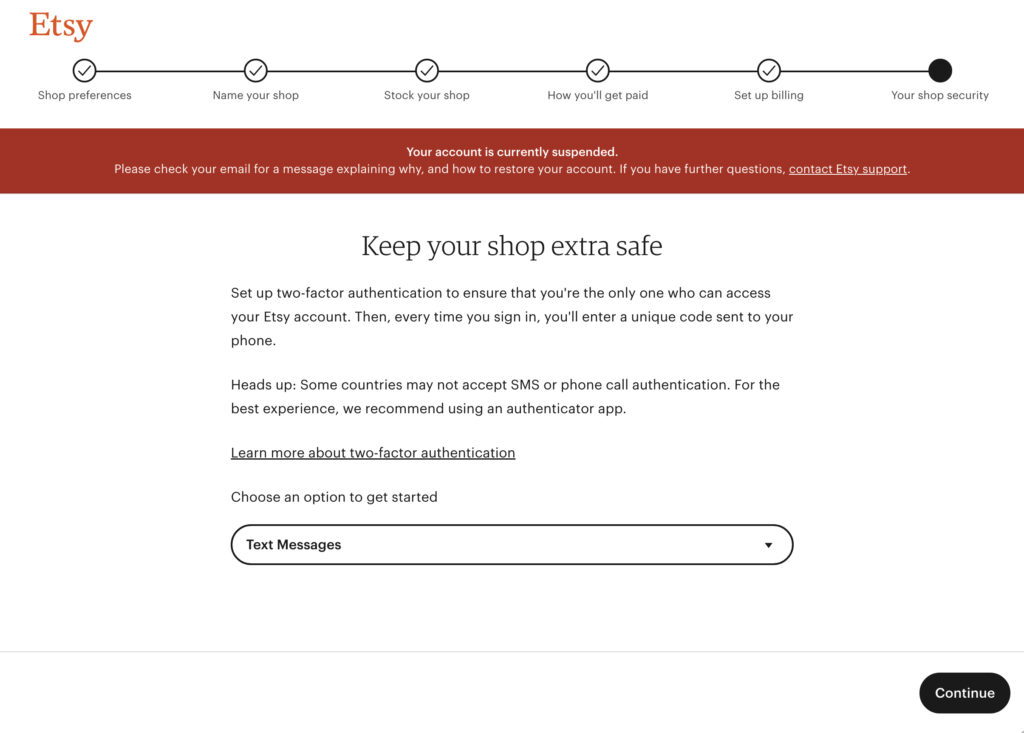 You can't do anything when you see above error. You will have to contact their support who are just useless bunch and will not help in this regards.
Right now my two shops from two different accounts are stuck on this step. First shop is from personal account and second one from business account.
Can you create multiple shops on Etsy?
The first instinct for the root cause of problem may be that you are trying to create multiple shops which leads to the question – Can you have multiple accounts on Etsy?
As per their help topic https://help.etsy.com/hc/en-gb/articles/360017604474-Can-I-Run-More-Than-One-Shop-on-Etsy-?segment=selling you can create multiple accounts. I don't think that this problem in question is due to creating multiple accounts.
The Solution #1 – Update Bank Account Details
When Etsy suspended my personal account I contacted them. They replied me to update bank account which will trigger the verification process again but it didn't work out. Updating bank account did nothing and I'm stuck at this step without any help from Etsy. They have also stopped replying to support request.
This solution doesn't work and it seems Etsy has some fundamental issue with account verification process.
The Solution #2 – Wait and error may be gone
As it happened with my first shop creation I waited for few days after getting stuck at Account Suspended step and problem disappeared. However this problem doesn't go away on any subsequent shop creation from different email.
I'm still waiting for their support to come back. I'll keep this post updated.